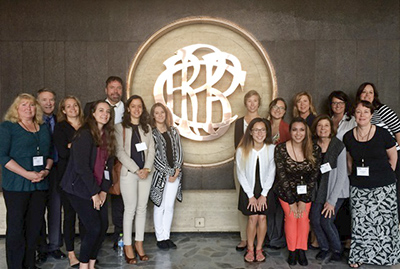 June, 2017: Study Tour participants visit the Central Bank of Peru for presentation on the economic situation in Peru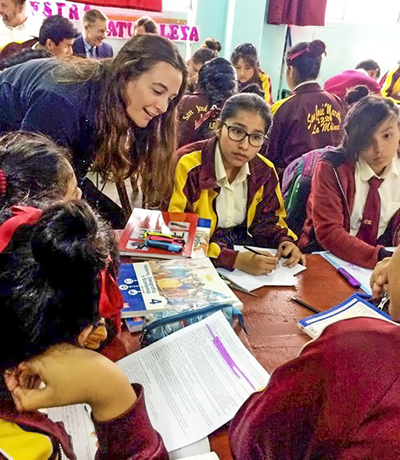 June, 2017: Texas High School Teacher Melissa West interacts with Colegio Marello students, Lima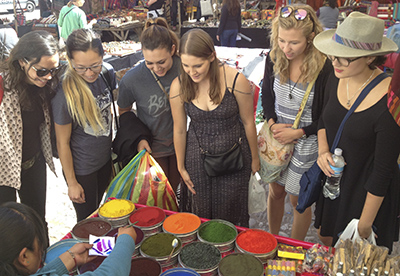 June, 2017: Study Tour participants learn from indigenous Quechua in Sacred Valley of the Incas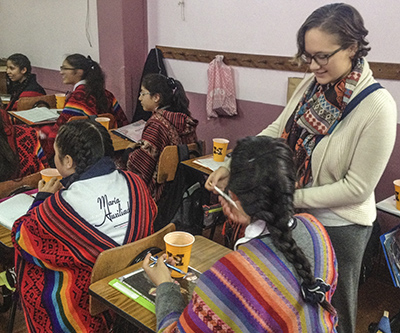 June 2017: Study Tour participant shares with Maria Auxiliadora students, Cuzco, Peru

Our upcoming and recent activities:
Workshops
2018
Singapore
Chile: TBD
Indonesia: USAID project
2017
May: Cluj, Romania
Aug: Lima, Peru
Sep: Singapore (tentative)
Nov: Tallinn, Estonia
2016
Aug: Montevideo,Uruguay
Aug:&nbsp:Lima, Peru
2015
Mar: Lviv, Ukraine
Aug: Lima, Peru
Oct: Jakarta, Indonesia
2014
Mar & July: Montevideo, Uruguay
May: Lima, Peru
June, Sep & Dec: Kyiv, Ukraine
Oct: Paide, Estonia
2013
Aug: Lima, Peru
June: Kharkov, Ukraine
June: Jakarta, Indonesia
2012
Mar: Torreón, Mexico
May: Lima, Peru
Oct: Lviv, Ukraine
Dec: Nelspruit, South Africa
Study Tours /Teacher Exchange
2018 Upcoming
June: Peru Teacher Study Tour
2017
June 9-19: US Teacher Study Tour
to Peru
2016
April: US Teacher Study Tour
to Peru

2015
March: US Econ Teacher Study Tour
to Peru
2014
Feb: Peruvian Economics Educator
Study Tour to USA
2013:
Mar: Mexican Council for Economic and
Financial Education Study Tour to USA

Consulting
2017-2018: USAID project on financial literacy in Indonesia

Ongoing: Curriculum planning and/or development with partners in Ukraine, South Africa, and Peru.
Our Programs

Our programs are designed to provide educators in developing countries the knowledge and tools they need to teach the principles of market-based economics and personal finance to the next generation. We accomplish this through workshops, study tours and teacher exchanges, and through consulting that includes infrastructure development, curriculum development, and program evaluation.



GEEA has recognized expertise in creating and delivering activity-based economics and personal financial literacy educational programs. GEEA works with partner countries to identify needs and plan appropriate programs to meet those needs. Programs and services available include:
Training of Trainers programs in economics, financial literacy and entrepreneurship to support countries seeking to develop trainers who can provide professional development for their own K-12 teachers.
Curriculum development consulting services to assist countries in developing effective economics, financial literacy and entrepreneurship education for all grade levels.
Strategic planning consulting services to assist countries in developing national frameworks/organizations to coordinate and promote economic education and financial literacy.
Teacher exchange study tours to promote and raise awareness of effective economic and financial literacy education practices throughout the world.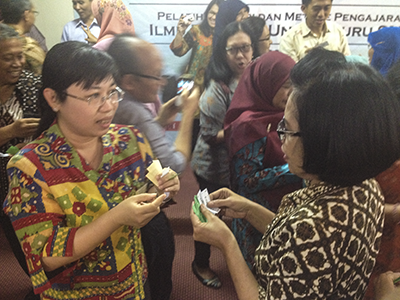 October 2015: Indonesian teachers engaged in market trading activity during GEEA workshop.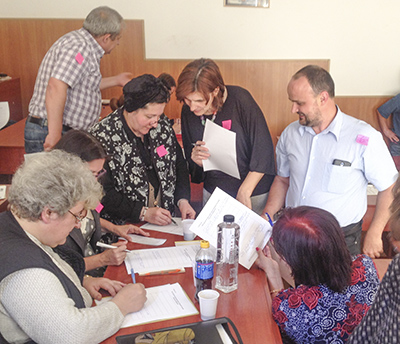 May, 2017: Romanian teachers work together on group project during GEEA Workshop in Cluj, Romania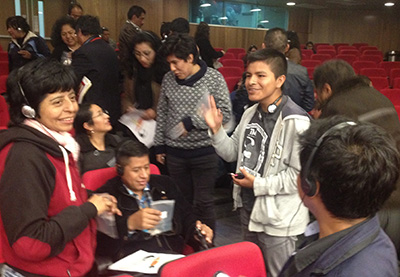 August, 2017: Teachers participate in GEEA workshop held at the Peruvian University of Applied Sciences.